Roll over image to zoom in
Description
New 

Wireless
Muscle Stimulator
Muscle Stimulator is suitable for abdomen, arm, legs, hips and back training.

This abs trainer will stimulate your body skin by low frequency to tighten and strengthen your muscles, giving you a satisfactory body figure!
Using Our Muscle Trainer is Equivalent to a Good

Work Out

!


9
Levels of Adjustable Intensity!
Great as a Muscle 
Massager
!
This 

Muscle Stimulator 

is suitable for abdominal workouts, arms, legs, hips, thighs, buttocks and back. This Muscle Trainer will stimulate low frequency body skin to tighten and strengthen muscles.

 

What

Benefits

You Get?
Muscle Stimulator
for muscle training and
body slimming; This
Muscle Trainer
can
help to
tighten
and
strengthen
your
muscles,
you can gain
a
Better Body Figure
after consecutive use of 
Muscle Toner
for about 2 months.
What

 

Function

 

EMS Technology Fulfill?
EMS (Electrical Muscle Stimulation) through current stimulation, directly send signal to muscles, and promote muscle movement.
"

ALL

 

you have to do is to fit the abdominal toner to your body and let it exercise your muscles!"
NEW

Rechargeable Version!!!
Save Money

by

Not

Having to Purchase Batteries ALL the Time!!!
"

NO

 

Batteries Required

!"

💯😎

Hips

 

& 

Buttocks Muscle Stimulator
"Butt

Lift

 Up Shaping & Acupressure Massager"
Our

EMS Trainer can help you tone, tighten

,

and

firm

your hips and buttocks

that you've Always Wanted!





EFFECTIVE

 

MUSCLE TONING!!
"With

U

shape pad for hips"
Self-training at home, in the gym and office.


Ergonomic pad design enables great adhesiveness to the hips.




Electrical stimulation of the gluteal muscles

  

Muscle Stimulator

Effect

:
1: Relieving Symptom
for tighten shoulder, waist and back.
2: Betterment of Muscular Paralysis

by Stimulating Contractions On Your
 Muscles.
3: Massage Effect
with Tension for Muscle Stimulation.
4:

Build Muscle

 
, keep fit with the Ultimate Muscle Stimulator.
Features:
1: The low frequency treatment is by rhythm and soft impetus.
2: 9 Choice strength grades with simple operation.
3: Six-point pad for your abs, suitable for arm, waist, and leg muscles training.
4: Muscle Stimulation for Hips & Buttocks, muscle building fitness shape.


How

 

to Clean Sticky Gel Pads:
Wash the pads by clean water, it will be sticky again when they dry out. If not in use for a long time(more than 1 month), please separate battery from machine and store it on other place.
How
to use The Replacement Gel Pads:
Tear off the blue paper, glue the gel sheet on the block, smooth the gel sheet. Please apply a drop of water moisture finger on the surface, then attach it to the leather trim
Especially suitable for:
★1. Sports lovers
★2. Fitness Enthusiasts
★3. Commuters, White collars, no time for gyming
★4. Lose weight faster
★5. Post-partum and more
Abs & Arms Packing list:
★3 x Host
★3 x Body pad (1x Abs, 2x Arms)
★1 x USB charging cable
★1 x Manual
Hips/Buttocks Packing list:
★1 x Host
★1 x U Shape Body pad
★1 x USB charging cable
★1 x Manual
Charging:
Rechargeable USB Powered
(Rechargeable Battery Host and USB cable INCLUDED)

Customer Video Review:
Payment & Security
Payment methods
Your payment information is processed securely. We do not store credit card details nor have access to your credit card information.
---
Security
Customer Reviews
09/13/2021
Anonymous

United States
I recommend this product
Worked great for 10 days
Good until the saddle got a short. Wrote to request replacement 3 times. No response
09/02/2021
Christie M.

United States
I recommend this product
Amazing
Absolutely love this item! I have lost 2 inches around my stomach with just using for 2 weeks. Would definitely refer to friends & family!
07/27/2021
Erin M.

United States
1 defective host and 1 defective charger
I received my order, however, only 2 of the 3 hosts and chargers work. I have not been able to use this product as was intended. I have emailed you served times with no response. I need to receive a third host and charging cable. Please check your support email. I have sent photos as w.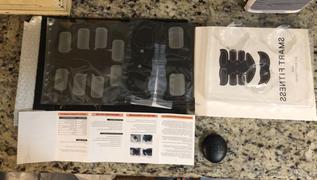 07/26/2021
Anonymous

United States
Love it !!
Good, I love using it !
Unexpectedly a good product for the money
Listen I was always skeptical of devices like these but at the same time I was always willing to try. First, the gel pads that are connected are super sticky, they hold on tight no matter how you move. They do have issues sticking to skin with hair. The more hair the less stickyness. Second, the different pulse modes are exciting. When I first turned it on it felt like a small vibration from a cell phone. Turn it up once there's a slight sting. 3rd mode the sting intensifies. And fourth mode (To me) is where it starts to hurt a bit.
07/11/2021
Modern Trends Co.
thank you for the review!!